Youth Registration Form
Please check kits to avoid clashess
Please would all visiting clubs check the email from their hosts to ensure that there is no clash of kit colours
As a recent example it is not ideal for a visiting club to play in red when the home team play in orange
IMPORTANT AFFILIATION INFORMATION FOR SEASON 2023 – 2024
All clubs with open age teams will be required to have a named Club Welfare Officer at the point of affiliation from 2023 – 2024 season onwards.
All open age teams with 16/17 year old players must ensure that the team coaches have an in date FA DBS in place.
It is the responsibility of clubs to ensure that they are aware of any 16/17 year olds playing, and to adhere to the FA DBS requirements.
England Football Accreditation
Click to read the guidance document
Please note deadline for England Football re-accreditation 30 April
If you have any questions please contact Jemma Tewkesbury at Dorset FA (01202 688279) or Derek Hansford (01305 268722)
Piddlehinton United FC has completed their Accreditation - Please feel free to download as a good example
Accredication Contacts for other local Leagues
Somerset:- Rebecca.Snelling@somersetfa.com
Wiltshire:- accreditation@wiltshirefa.com
Hampshire:- Max.Humphreys@HampshireFA.com
Premier League/Football Foundation Defibrillator Fund
Click here for details of the Defibrillator Fund
Important Information re Discipline
At a recent Disciplinary Sub-committee meeting the following procedure was agreed in respect of Rule 20.E.1
(In the event of a Club failing to keep to its fixture):
Clubs will be charged and asked to either:
b - accept the charge and supply mitigation
d - put their case before the Management Committee
If the charge is accepted or the supplied mitigation is not accepted by the Discipline Sub-committee the following penalties will be applied:
| Offence | Penalty |
| --- | --- |
| First Offence | £60 fine plus one league point deduction |
| Second Offence | £80 fine plus two league points deduction |
| Third Offence | £100 fine plus three league points deduction |
| Fourth Offence | Called to appear before the Management Committee – fine could be as much as the maximum £250 with potential expulsion from the League |
This applies to 2022-23 only and will be reviewed at the end of the season.
Documents Released by the FA on England Accredited Clubs - Feb 2022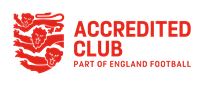 Please click on the below links to view the documents
Update to Adult League Safeguarding from 2022/2023
Please click here to read update from Natalie Wood, DCFA Football Development Officer

Dorset Women's Football League
The Dorset Women's Football League now have their own website