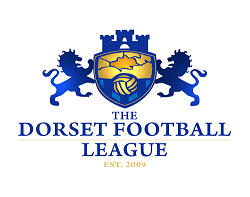 The Dorset Football League was formed for the 2009/2010 season and is affiliated to Dorset County Football Association.
As a very active League we run a Senior League, four additional Adult Leagues, an Under 18 League and two Veteran Leagues.
​
Applications to the league for new clubs to be received by 1 June 2020
Affiliation clubs can start this process in mid April and to be submitted to DCFA
Interviews for new clubs will be the week commencing 2 June 2020
League will be constituted by 14 June and sent to the clubs
AGM 1 July 2020
Invoices will be sent out on the 2 July 2020
All invoices to the league to be paid by 1 August 2020
Clubs to have 13 players signed on by the 1 August 2020
Clubs must ensure that their kit is acceptable e.g. No dark blue or black that may clash with referee colours. Please check with the General Secretary with proposed kit images. Advice and rules re suitable team colours
Clubs wishing to withdraw Teams from the League for the 2020/2021 Season are reminded that they must give notice to the General Secretary by 31 March 2020
Documents for 2020/2021 Season
The Dorset Football League is able to accept additional teams for the 2020/2021 Season
For more information and an application form please contact our General Secretary, Nick Speed. (Click to Email)
| Date/Time | Event | Venue | Postcode |
| --- | --- | --- | --- |
| Wed 29th July 2020 | DFL Annual General Meeting | By correspondence | |
Clubs are encouraged to attain the FA Charter Standard Status
The Dorset Football League has attained Charter Standard Status and it is hightly recommended that our Clubs attain this recognised standard. This status raises the standard of grass roots football and it gives the Club and League a more professional image. Clubs can also apply for financial assistance once they have attained Charter Standard Status.
It is not difficult to obtain Charter Standard Status and around 70% of Dorset Football League Clubs have achieved this. The League's aim to get the majority of Clubs approved by the end of this season.
We are pleased with the recent progress with several clubs including Upwey and Broadway, Handley, Piddlehinton Utd and Puddletown having applied for Chartered Standard status which will enable them to access significant financial help. Congratulations to those clubs.
For more information on the briefing please contact Derek Hansford on 01305 268722 or email derekhansford@hotmail.com.
Click Here for details of the FA Charter Standard Programme.
Useful Documents
We take your privacy very seriously Click Here for our Privacy Notice
A message from The Dorset Football League to all Dorset League Clubs, Match Officials and Supporters
We thought we ought to say a 'few words' on the situation as things are at present.
To say the least it was extremely frustrating and disappointing for all of us when the decision was taken to 'pull the plug' on the 2019-20 Season. Unfortunately we had no alternative when H.M. Government announced the 'Lockdown' on March 23rd.
Our playing Season was over, declared 'null and void', all records to be expunged. It had already been a very frustrating Season due to an enormous amount of rainfall which had meant a load of Fixtures being postponed virtually from the start to the premature end.
With Government 's strict instruction's in place the Committee has had to make alternative arrangements with regards to holding our Meetings which as you know are normally held at Corfe Mullen R.B.L.Club.
I'm very pleased to say we are now and for the time being holding Meetings via. 'Conference Call' using our various 'gadgets' at home ; it has been a real 'learning curve' for many of us but we have only had one or two 'hiccups' so far and it's working well. On behalf of all the Committee I wish to say a big thank you to Jon Fancy and Mike Pomeroy for their expertise and willingness in setting this up for us, wonderful!
We are aware many of you would like to know what the arrangements will be for Season 2020-21. Unfortunately at this moment of time we do not know when next Season will commence, it will all hinge on H.M.Government and the Football Association. As soon as we know I promise you will all be informed immediately. One thing I can say is we will endeavour to make sure we offer you as much Football as we can and it will be our intention to 'Taylor make' the size of Leagues and fixtures to suit the number of 'playing days' available, if only for next season, a one off situation, not ongoing.
In addition to this I am pleased to announce League joining Fees for next Season will be suitably adjusted favourably to you as a form of compensation for losses of organised League Football in Season 2019-20 and probably next Season 2020-21.
Annual General Meeting
The date has now been put back to 29th July 2020. Due to the fact we cannot hold the A.G.M. in the normal manner i.e. at Corfe Mullen R.B.L.Club.The Meeting this time will be held via e-mail between Dorset League General Secretary, Nicky Speed, assisted by our Minute Secretary, Jo Corben and all the Clubs.
Each Club Secretary and D.F.L. Management Committee Member will be sent all the necessary information that is required to be dealt with at our A.G.M. as per our Rules.
You will be granted sufficient time to ask questions and query anything you're not happy with. Then you will be requested to reply with your agreement or otherwise of proposals etc.,etc., by a closing date, which will be quoted by the League General Secretary.
I must reiterate all correspondence must be via e-mail and only between General Secretary and Club Secretary's.
We appreciate this system is very different from normal, all we ask is please adhere to our wishes, hopefully it will only be for this one-off season and I thank you in advance.
All other non-mandatory business such as various Reports and the like will be posted on the Dorset League Web-site for your perusal.
At this juncture I wish to say how much I appreciate all the hard work and effort put in by all Members of the Management Committee, it is and will continue to be a 'trying time' for all of us but I am very proud to be the Chairman of 'our League' and working with every one of them.
In these surreal times who would ever have thought our way of life would be so infringed upon by a virus? It serves somewhat of a reminder of how frail life and the human body is. I feel we should all consider this situation when we perhaps get a bit heated by things that happen in Football and perhaps should reflect and say thank you that we can still be involved in the great game we all love...............at the count to date in the U.K.alone 34,000 will not be able to take part. Chilling I believe and worth perhaps more than just a little thought?
On behalf of the D.F.L.I extend a very warm arm of friendship to all the Clubs, Match Officials and Supporters, we look forward to meeting you all again in the new season both on and off the field.
The message is "Please be patient, everything comes to he who waits"! -stay safe everyone.
All the best and very kind regards,
Geoff Pike,
Chairman,
Dorset Football League.